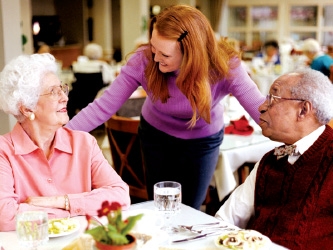 Dining is not just essential in maintaining and supporting health and wellness; it's also a way to encourage social interaction and the nurturing of friendships. Oak Tree goes to great lengths to make dining enjoyable and even fun.
Our chef and dietary staff work collaboratively to create tasty, nutritious and balanced meals. We offer three delicious meals a day, buffet or restaurant style – designed to meet a variety of tastes – in our beautiful main dining room. Meals can be delivered to your apartment upon request.
Coffee, ice tea, juice and snacks are available throughout the day in the main dining room.
Meal Service Times:
Breakfast 7:30

Lunch 12:00

Dinner 5:00
back to top