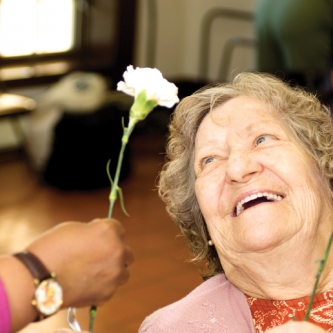 Today's seniors want to keep their independence as long as they can. At Oak Tree seniors thrive, because they are encouraged to keep their independence and have freedom knowing assistance is only a call away. Our caring and friendly staff helps to make out seniors feel right at home.
You can see it in the warm smiles exchanged between our residents and care team, who cheerfully assist with bathing, dressing, medicine reminders, and other activities of daily living.
You can see it in the social interactions as aging seniors meet new friends over a family-style dinner, an arts class, or a specially developed social event. And you can see it in the relief that's experienced when daily chores such as housekeeping, doing laundry or cooking meals are no longer a concern.
Here, within our nurturing and comfortable home-like setting, Oak Tree residents enjoy a wide array of social and recreational activities as well as lifestyle enhancements. It's all about quality of life with an added level of personalized care and attention.
back to top